Our knowledge and expertise go beyond the average installation of medical gas.
There aren't a lot of plumbing companies out there that are experts in medical gas installation and repair for hospitals, dental practices, surgical centers, and other healthcare facilities. At Pure-Line Plumbing, we are the one to call for your medical gas needs. Not only do we offer our medical gas services here in the Durham, North Carolina area, but we also travel throughout the United States and the Caribbean. Our knowledge and expertise go beyond the average installation of medical gas. In fact, the commercial side of our business began with our work in medical gas solutions, hence the name "Pure-Line," which is a critical component of this kind of work, along with reliability, safety, and security.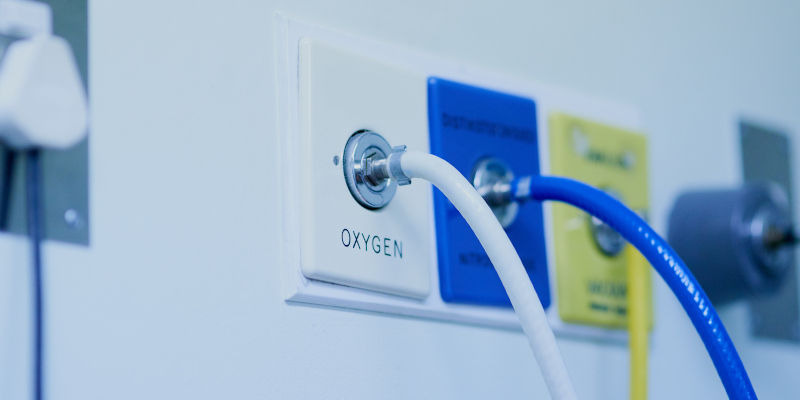 A clean environment is of utmost importance to us, not only to be in compliance with NFPA99, but also for the safety of your personnel, patients and clients. While performing medical gas work, we maintain a clean, safe space that is kept debris-free at all times. Our trained technicians have more than 25 years of med gas experience. Their certification goes beyond the basics (ASSE 6010 and ASME IX Brazer) required for installers and includes the certifications of ASSE 6030 Verifier, ASSE 6040 Maintenance and ASSE 6050 Instructor. These are nationwide certifications covering work we do throughout the U.S. and the Caribbean
Our medical gas services include:
Installation and repair of vacuum and medical air sources
Manifolds, valves and zone valve boxes
Outlets
Master and area alarms
Hyperbaric chambers
Oxygen bulk farm concrete pads, fencing and bollards
Medical gas pipe tracing
Compressed gasses and vacuum systems, including oxygen, medical air, nitrogen, nitrous oxide, medical surgical vacuum, carbon dioxide, helium, instrument air and waste anesthetic gas disposal (WAGD).
Verification
If you would like to know more about our medical gas services, don't hesitate to reach out to us. We proudly serve the Triangle area, including Durham, North Carolina and many other surrounding communities with exceptional residential and commercial plumbing services and we provide medical gas services throughout the country.
Similar Services We Offer: